Frequently Asked Questions
Fun Party Ideas!

Q: What is a Luau?
A: Most say that a Luau is a Hawaiian party, or feast with friends and family. To us, it's just a good excuse to eat good food, have a couple Mai Tai's, do the Limbo and have an awesome time!
Q: What is Kalua Pork?
A: It's slow roasted pork that's cooked until it falls apart and then it's pulled into tasty bite-sized pieces.
Q: What type of decorations are provided?
A: We bring the Islands to YOU. That includes a decked out Tiki Hut for serving, a decorated serving table, centerpieces for the tables and complimentary Leis for your guests. Even the drinks have umbrellas in them. Now that's a Luau Party made-in-the-shade!
Q: What type of entertainment do you offer?
A: In addition to a fully themed and decorated Luau Party, we provide a Hula Hoop Contest and Limbo Contest along with Authentic Hawaiian Music played on a professional PA Stereo System. We even have a prize drawing and giveaway for the best-dressed!
Q: What makes Tiki Tiki's different than other Luau Party Caterers?
A: Tiki Tiki's focuses on creating a Fun, Festive, Island Atmosphere that's Simple and Affordable. You don't have to worry about your Luau- we take care of everything so you can enjoy your party. Relax! We cook.YOU Party!
Q: I want my drinks spiked! Do you do that?
A: Heck yeah! We provide exotic tropical adult beverages or tropical non-alchoholic versions for the kids. The drinks even have the little umbrellas in 'em so either way, we've got your drinks covered. Literally!
Q: What do I need to provide?
A: Since we bring the complete Island Party to YOU, all you need is a Fun, Hungry crowd decked out with cool and corny Hawaiian shirts ready to have some serious Fun! We even provide table and chair rentals for an all-inclusive event.
Q: What kind of plates and serving ware do you use?
A: We provide heavy-duty disposable plates and eating utensils.
Q: How many people do you cater to?
A: From as few as 40 to as many as 2,000 we cover any sized Island crowd.
Q: How far in advance do I need to book my event?
A: The sooner, the better. We can book on short notice up to a few days in advance but for larger events we'd prefer advance notice of a few months.
Q: Do I need to provide a table for you to serve on?
A: Nope. We provide everything we need to facilitate serving you and your guests. You will need to be sure to make table and seating arrangements and we can even take care of that for you with our table and chair rentals.
Q: Do I have to dress up?
A: Well, DUH! Of course, it's a Luau! Wear your cheesiest Hawaiian shirt, grass skirt, or coconut top to be sure you're fun and festive as we are. Dress to impress if you plan on winning the contest for The Best Dressed Guy and Gal.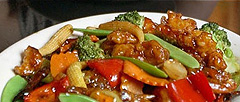 Have your guests wear khaki shorts, sandals and their best Hawaiian shirt to the party.
We have an assortment of fun party liehs that make a great accessory for your guests (small additional charge).
Send out fun postcards or emails, inviting your guests to your Authentic Luau Party!